PA0RDT mini-whip voltage probe
http://dl1dbc.net/SAQ/Mwhip/Article_pa0rdt-Mini-Whip_English.pdf
This is a very simple compact antenna. I have built two so far. One is now working in the garden about 5m away from the house, but needs elevating higher off the ground than the current 1.5m. It picks up a lot of noise when close to the house.
Like all E probe antenas it is very prone to common mode noise. This is very difficult to choke off the feed line due to the high input impedance of the design. I may need to experiment and build a balanced version to see if I can reduce noise pickup.
The frequency response of the version without the 10uH series choke connected between the antenna and the amplifier is very flat +/-0.5dB from 50KHz to 30MHz. Adding the choke lifts the response at 30MHz by approx. 10dB. The upper frequency limit seems to be constrained by the input capacitance of the amplifier. Modifying the shape of the antenna element to increase its self-capacitance improves the HF performance without degrading performance at the LF end of the operating range but more testing needs to be done.
Note that it's not a good idea to add back to back protection diodes across the amplifier input of these high impedance designs (as shown in the picture below). If you do want to add diodes connect them in series so that they are reverse biased between ground and +ve supply rail with the junction connected to the amplifier input.
I measured the IMD performance of this design (without input protection diodes) to be OIP2 = +46.6 dBm and OIP3 to be = +28.8dBm
Owen Duffy has performed a detailed analysis of this antenna. Including the influence on it's performance by the length of feed cable and other factors associated with its installation.
http://owenduffy.net/antenna/PA0RDT-MiniWhip/
There are also a number of kit verisons available if you want to make something that looks a bit more professional.

http://www.pa0nhc.nl/Miniwhip/indexE.htm
http://huprf.com/huprf/e-field-probe-active-antenna/
Since originally building this antenna, I have found another updated version designed by PA0NHC, who suggests that his design may offer better performance.
http://www.pa0nhc.nl/Miniwhip/pa0nhc_miniwhip.htm
Prototype built on copper board on top of insulating layer of self-adhesive Kapton tape.
However the gain of the PA0NHC antenna seems to be about 4dB less than the PA0RDT design, which would further contribute to an improvement in the intermodulation performance.
The graph below shows the measured gain frequency relationship of the two types of antenna. In the case of the PA0NHC antenna I also experimented with changing the value of the 0.1uFcoupling capacitors to 10uF in order to decrease the lowest operating frequency. This would also produce a similar result with the PA0RDT design if you are interested in the reception of frequencies below 50KHz with these antennas.
Note that in order to achieve the reception of such low frequencies, the DC injection / RF blocking choke in the antenna circuit and Bias Tee also need to be increased in value from 470uH to 10mH. Ensure that any chokes used for this purpose have a low value of resistance and a high enough current rating. I used a FASTRON part number 77A-103M-00 10mH Inductance, 14.4 Ohms DC resistance and 300mA current rating, which is stocked by CPC.
http://cpc.farnell.com/fastron/77a-103m-00/suppression-coil-leaded-10mh/dp/FT00801
The plots shown below were taken with 10mH choke inductors.
Orange trace = PA0RDT with simulated 20pF input load and using standard 0.1uF coupling capacitors
Red trace = PA0RDT with simulated 20pF input load and using 10uF coupling capacitors
Black trace = PA0NHC with simulated 20pF input load and using standard 0.1uF coupling capacitors
Grey trace = PA0NCH with simulated 20pF input load and using 10uF coupling capacitors
In practice 1uF coupling capacitors seem to provide the best compromise between acceptable low frequency performance and the rejection of excessive levels of 50Hz mains hum.
Update

Pieter, PA3FWM has produced another updated Mini-Whip design based on PA0RDT's original.

http://www.pa3fwm.nl/projects/miniwhip/

This is now in use on the University of Twente WEB SDR http://websdr.ewi.utwente.nl:8901/
Hope to build and test one of these in the near future

Chris Trask has also has produced a number of excellent active antenna amplifier designs. Some of which have been recently updated as a result of feedback from constructors such as myself.
http://home.earthlink.net/~christrask/Complementary%20Push-Pull%20Amplifiers.pdf
http://home.earthlink.net/~christrask/Active%20Monopole%20Amplifier.pdf
I have built the circuit shown in Figure 5 in the first document.
This works very well and doesn't require any special transformers. Using the component values shown in the circuit above, it has a flat frequency response from less than 5KHz up to and beyond 30MHz.
The measured IMD performance was OIP2 = +59.1dBm and OIP3 to be = +43.8dBm which is about 12dB better than PA0RDT. So it is possible to use a slightly larger whip antenna, which will provide improved S/N performance without introducing a significantly higher level of intermodulation products.
Here is another version using a larger DC bias Tee choke and 1uF coupling capacitors, which has been optimised for the VLF bands
I?m currently using this design for LF band reception on the SUWS Farnham WEB SDR.
This picture shows the antenna as installed at the SDR site. The external housing is made from 50mm diameter plastic water pipe with 3D printed end caps and mounting clamp.
Frequency / gain plot of Trask antenna vs. PA0RDT. Both antennas using 10mH Bias and DC injection chokes.
This is one of my favorites so far in terms of ease of construction vs. performance.
Clifton Labs Active monopole
Similar to one of Chris Trask's designs but with a few additional modifications.
http://www.cliftonlaboratories.com/Documents/Z1501D%20Instruction%20Manual-01.pdf
I
modified this by using a FET Constant current source in place of the Input FET source resistor, and set the current at about 20mA. I also omitted the choke in the emitter of the buffer stage, as this seems to be an unnecessary complication. Chris Trask has also added this modification to one of his designs.
The ferrite beads shown in the circuit diagram. Are optimised for the frequency range in use, and are used to define the upper operating frequency. I omitted them. As standard single hole beads will not perform the same function. They need about three turns of wire on them to give a similar characteristic.
http://lairdtech.thomasnet.com/browser?&plpver=10&prodid=3001393&itemid=5762&assetid=3909
This circuit seems to work very well, and has an extremely flat frequency response from about 10KHz upto >180MHz.
IMD performance seems reasonably good, but I still need to measure this properly.
W0QE Active Monopole Preamplifier
W0QE has a lot of interesting information on his website, including an amplifier that is suited for use as an active monopole.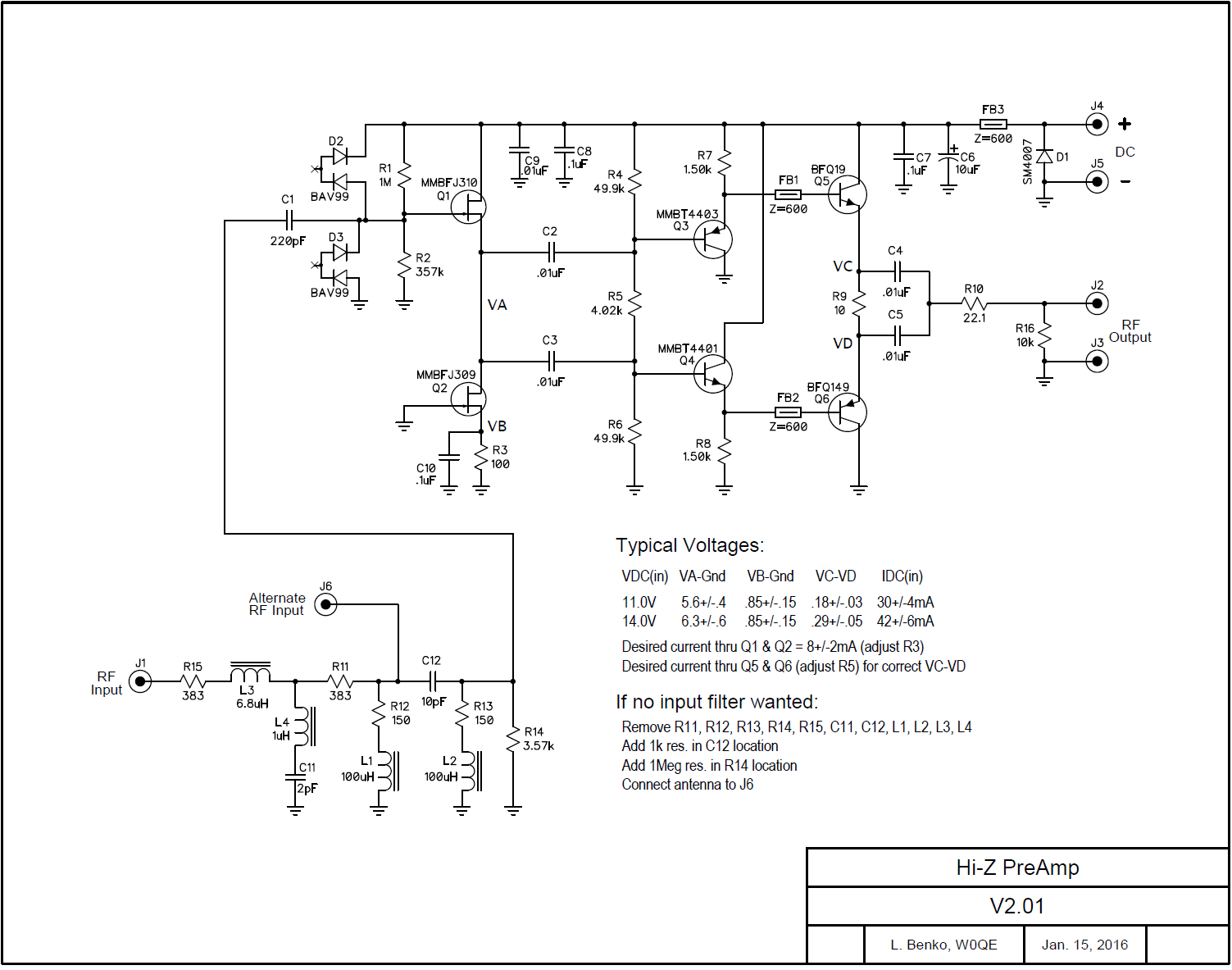 Nordholt Antenna
A predecessor
of the PA0RDT, Clifton Labs and Chris Trask designs.
More details can be found here
The patent document can be found here
NASA Designs
Chris Moulding of Cross Country Wireless pointed out these designs to me. Most are easy to build. But the the last link may be a bit more problematic as it's a superconducting loop !
(My thanks to

Bob, N6TV, for locating the new NASA links shown above)
Note this link is still broken - can anyone provide a new one ?
https://sites.google.com/site/datongarchive2/ad270ad370
I have one of these working on top of my works QTH (and another sitting around in my garage) that I use for making remote TX antenna field strength measurements. Although it's supposed to be a balanced antenna, it is not immune from common mode noise. However it gives very repeatable results, in terms of long term amplitude stability.
Chris Trask has analysed this design and produced his own circuit.
http://home.earthlink.net/~christrask/Active%20Dipole%20Antenna.pdf
I've been building a broadband version of Chris Trask's remote tuned design. Which I hoped would outperform the Datong. However at the moment I'm having a few problems getting the circuit to function correctly. The individual stages work OK. But when they are connected together the frequency response is not particularly flat. A suggestion is that the cumulative phase / time delays through the cascaded stages. May be messing up the feedback circuitry. I've spent several days on this so far. So I've put it aside for a while and will revisit it later.
Cross Country Wireless HF Active Antenna
This is a relatively new design of balanced active antenna. Which is being produced by Chris Moulding of Cross Country Wireless.
http://www.crosscountrywireless.net/active_antenna.html
I have an early production version, which works well. Performance is comparable to the Datong AD 270/370 (which is no longer available).
One interesting feature is that the RF 'head' and receiver interface are connected together via CAT5 multi-core Ethernet cable, rather than coax. Chris claims that this helps to reduce the incidence of common mode noise pickup on the interconnecting cable. I was not able to fully verify this. But the design did seem less succceptible to this problem than the Datong models.
Dressler ARA-2000
http://www.dd1us.de/Downloads/Dressler%20ARA-2000%20what%20is%20inside%20rev3.pdf
https://apollo.open-resource.org/mission:log:2012:08:02:active-wideband-receiver-antenna-for-sdr
I had previously built a version of the ARA-500 (50-500MHz) which used a fat printed circuit board bi-conical style dipole.
This used a broadband balun on the input of a BFT66 bipolar transistor RF amplifier with ferrite transformer derived negative feedback.
The circuit was similar to a broadband pre-amplifier design originally published in the German 'VHF Communications' magazine 1978 Q1 Pages 30 ? 36. Entitled ?A New Type of Pre-amplifier for 145 MHz and 435 MHz Receivers? By M Martin, DJ7VY.
The MuTeK BBBA 500u also used a similar circuit, but only using one stage of amplification. This provides a gain of about 10dB.
The later versions of Dressler such as the ARA-2000. Use FETs or broadband amplifier MIMIC's of various types and a strange helically wound antenna element constructed from foil tape.
http://www.dd1us.de/Downloads/Dressler%20ARA-2000%20what%20is%20inside%20rev3.pdf
Here's another analysis and a suggestion for an improved version of the Dressler
https://apollo.open-resource.org/mission:log:2012:08:02:active-wideband-receiver-antenna-for-sdr
I'm now trying to get hold of a small quantity of RF3827DS RF amplifier chips to experiment with and maybe try building something like a better version of the Dressler Active antenna. This is proving to be somewhat difficult. So if anyone can help please drop me a line.
http://www.rfmd.com/CS/Documents/RF3827DS.pdf
Lots of other active antenna links can be found here
http://www.rsl.ku.edu/~eecs501/active_antennas/
SSB Electronics LNA-3000 Broadband masthead pre-amplifier (now discontinued).
http://www.rigpix.com/accessories/ssb_lna3000.htm
Although not strictly an active antenna, this low noise broadband amplifier proved to be a useful addition to a Discone or Bicone antenna and often dramatically improved reception on the VHF and UHF bands.
Faulty units often appear on the surplus market, but it is not immediately obvious which semiconductor devices were used in the original design.
http://www.dd1us.de/Downloads/lna-3000_v_1_1.pdf
However I have successfully repaired units by replacing the two stacked semiconductors with MGF1302 Low Noise GaAs Fet's.
http://www.mitsubishielectric-mesh.com/products/pdf/mgf1302.pdf
When working correctly the source load resistor in the circuit has a value of 33R (3 x 100R in parallel) which provides a voltage drop of 4.16v with a bias current of approx 126mA for the two devices (63mA per device).
The amplifier typically provides a gain of approx 12dB, with a low noise figure and good strong handling performance.